Biography
Joost Mulleman
Born 1989
Founder and barber at The Garage 39
One thing you can truly say about Joost: He is a self-made men. During his high school period he started fully auto-didactic within the field of barbering, he searched and looked intensively to the work of barbers and hairdressers and started cutting hair at the young age of 14. His first victims were his little brother, class mates and his soccer team. At first all a bit scared but after a short period of time he had a busy agenda making sure his companions had a true Mulleman haircut.
At the age of sixteen he started to accomplish cosmetology school to become a hairdresser with his personal focus on men and truly learned to cut and shave men during his internship at a Barber shop. The choice had been made: barber it is. He learned it the old fashioned way, barbering is perfection and this was how the team worked for generations long and every cell in his body let him know this is what he wanted and needed to do!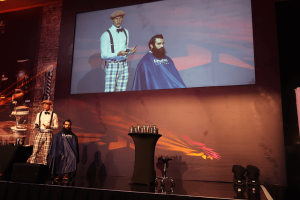 Explaining technical parts
Presentation for dutch hairdressers
Winner of barber of the year '17
Stage presentige for 3000+ people
When he turned 18 he participated in The Hair Fashion Awards Competition. He became third for New coming talent. Of course with a men's cut.
He worked in a variety of salons and barbershops and after a couple of years his desire for knowledge and exploration made him decide to travel the world. A scissor and a smile were the only things he needed to explore the world and develop himself within barbering via divers cultures and ways of barbering all over the world.
Joost's untameable voyage of discovery within true craft is immensely fulfilling and contagious for many. His strive for perfection and the will to develop him self and others is unstoppable.
Joost is very proud of the strong and independent team within the Garage 39, frequent training and many hours of individual coaching has led to opportunities within barbering and sharing knowledge through inspirational trainings, shows and providing support and guidance in various assignments.